Prom season is fast approaching and if you or your son or daughter will soon be headed off to the big dance, what styles are in fashion is only half of the battle in ensuring your child looks perfect. Another important aspect of prom is learning what flowers are best for boutonnieres and corsages.
According to The Associated Press, 2013 is all about color and unique flair. Flowers are more than just colorful additions to prom attire, they have become accessories in their own right.
Jazz it up
Adding tons of detail to corsages is set to be a major trend this year, according to the news outlet. For example, forgo the traditional elastic band on the wrist – more girls are interested in flowers crafted into bangle-like bracelets.
The bracelets can come in a variety of colors ranging from metallics like silver and gold to funky shades like blue, purple and green depending on the teen's dress color. Jasmine Snow, the accessories editor for Seventeen magazine, reports being unique and showing off personality is the goal of most young ladies in 2013.
"Everyone wants to be unique and different from someone else and that's a big deal, trying to do something different," Snow told the news outlet. "It's so cool to be able to try these new modern takes using fresh flowers as opposed to just doing the normal."
Corsages: Not just for your wrist these days
Even though some teens are looking to embellish the traditional corsage, others are taking prom flowers one step further. According to the news source, another popular trend in prom flowers is to use flowers in different ways – such as a fancy ring, a gorgeous broach or even a necklace.
This year, don't be surprised to see feathers, crystals, silk leaves or succulents adorned to girls wrists or dresses.
"Everything sparkly continues to be very popular. I've had a couple of girls, they just want glitter all over their flowers. I'm starting to see more personalization with their whole outfit," a professional florist told the AP.
Some teens are even opting to forgo a corsage entirely, instead showing their love of fresh blooms in their updos.
No matter what style your teen is into this prom season, one thing's for sure, adding in a touch of green is a must. Bryn Mawr-Gladwyne Patch reports green shades are in for 2013, so it's likely various shades of the hue will be seen on prom night.
Looking for corsages and boutonnieres to buy?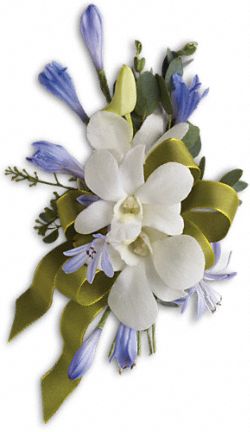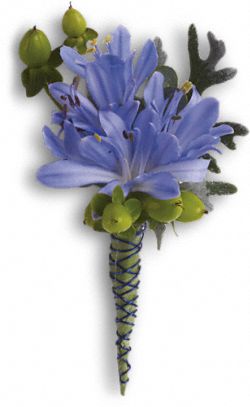 This article is brought to you by Teleflora on Google+