Memorial Day weekend is two weeks away, and if you've signed up to host a backyard bash, the time to start planning is now. Whether you've got some fun ideas in mind or are totally lost, there are plenty of easy ways to turn your home from ordinary to extraordinary in no time. Here are a few tips to help you earn praise as the hostess with the mostest:
Festive food and drink
No party, especially a backyard bash, is complete without a slew of delicious food and drink options and a Memorial Day celebration is no different. According to the experts at The Huffington Post, grilling might be the perfect option for this holiday since the event tends to signify the start of summer. However, if you're feeling a bit more gourmet than hot dogs and hamburgers, than taking a tip from the domestic goddess herself, Martha Stewart, might be the way to go.
Stewart suggests serving up delicious grilled deviled chickens to ooh and aah your guests.
For this dish you'll need:
4 1/4 pounds of chicken breast (or more depending on your guest list)
3 lemons
4 cloves of peeled and smashed garlic
1 tablespoon crushed red pepper flakes
1 tablespoon chopped thyme
1 tablespoon chopped rosemary
1/2 cup olive oil
salt
4 bricks.
With ingredients in hand, clean the chicken breasts and set them aside in a bowl. Next, take the lemons and slice them up thinly, squeezing the remaining juice in the bowl with the chicken and before adding all remaining ingredients except for the salt. Refrigerate for at least 30 minutes, though overnight will give you the best flavor. On the day of the party, set the grill to medium heat. From here, remove the chicken from the marinade, coat both sides with salt and then place the breasts on the grill. Wrap the four bricks in tin foil and then place them on top of the chicken, cooking them for 5 to 7 minutes on both sides or until fully cooked. Garnish with lemon wedges.
Infuse the space
Now that you have a delicious menu option, it's time to focus on the appearance of your backyard. Memorial Day is not only a celebration of summer, it's a party for America, so opting to decorate Memorial Day with red, white and blue floral centerpieces, streamers and table cloths is a must.
Setting up fun games such as horseshoes, bocce or even volleyball if your yard is big enough, is sure to keep your party guests having a good time all day (and night).
WEBER King of the Grill Bouquet!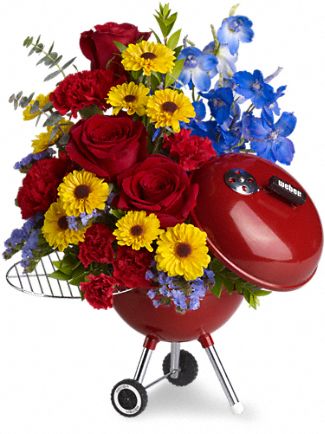 This article is brought to you by Michelle Farrell for Teleflora on Google+