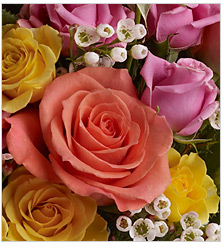 The various climatic changes that occur in cyclic patterns are termed as "seasons". There are four general seasons occurring on Earth - Spring, Summer, Autumn and Winter. Most flowers are season specific. For a flower lover, blossoms and blooms are always in season. Seasonal flowers give you more bang for your buck as the flowers are in plentiful supply in season. Teleflora florists can provide you with the perfect hand-arranged and hand-delivered, for every season.
Still, many of our favorite flowers are virtually synonymous with summer, winter, spring and fall. Mention the word tulip and spring comes to mind; when you see a poinsettia, you know Christmas is around the corner.
If you've got a big event – a wedding or special anniversary, say – it's helpful to familiarize yourself with flowers that will be abundantly available at the time of your celebration. (If you're a gardener, that's a whole other story – check your local library or book store for comprehensive guides on what's best for your region, climate, soil and space.)
So, we present this overview of flowers associated with the seasons. We hope you'll find it helpful, informative and fun.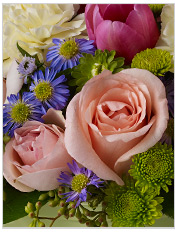 Seasonal spring flowers
Spring flowers emerge from bulbs planted the previous fall. What gets us through a cold and snowy winter? The promise of healing sunlight and new life, in the form of flowers. As a kid, you probably couldn't wait to run outside and see the bright color of a tulip pushing its way through dark soil after a long period of bleakness. They typically appear after the danger of frost has passed.
The always-friendly daisy reappears and there are few things in nature more cheerful than a daffodil.
Other flowers that burst into bloom and treat us to their intoxicating scents include hyacinth, freesia and the delicate but delightful lily of the valley. The brilliant color of azaleas, irises, pansies and violets reassures us that longer, warmer days are on the horizon.
Lilac, cherry blossoms, forsythia and pussy willow also reveal their uncommon beauty.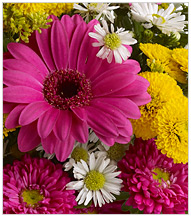 Seasonal summer flowers
Warmer weather and extended periods of sun support so many summer flowers in bloom. Beaches, barbecues, lazy days and weekend getaways and naturally blue flowers – like hydrangea and delphinium – are stars of the season.
Roses and ranunculus as well as dahlias, and azalea command our attention with their lush forms and vivid colors. Other summer favorites include cosmos, gardenias, daisies and zinnias. Peonies are a popular choice of June summer brides.
Additionally, gladioli and snapdragons entice us with their angular elegance. The leaves of the gladiolus inspired its name – from the Latin word "gladius," meaning sword.
Asters and sunflowers with their light-drenched hues bridge the gap between summer and fall.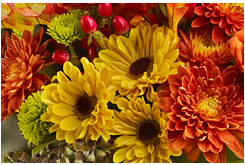 Seasonal fall flowers
Early autumn is a prime time for appreciating the loveliness of flowers and the changing colors of leaves. In early autumn, anthurium, bouvardia and liatris come to the fore. Wheat, goldenrod and marigold reach their full glory. Autumn's rich shades of red, yellow, orange and brown, and vibrant scents and spices make homes just that much cozier. Autumn is now one of the most popular times to tie the knot.
When the days get shorter and there's a chill in the air, that's the time for bouquets made up of chrysanthemums, daisies, roses, carnations, alstroemeria and lilies. Or try a potted cyclamen plant.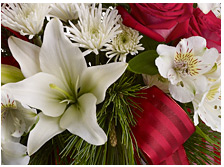 Seasonal winter flowers
Brighten up your home during the dark days and festive season. According to the Society of American Florists, more than 60 million poinsettias are sold annually. Poinsettia plants are striking and poinsettias as cut flowers will enhance any floral bouquet. Amaryllis, another vibrant bloom that's ideal for the holidays, also can be bought as a plant or cut flower. As well as Crocus in the Snow, Glory of the Snow and the Christmas Rose.
Carnations and chrysanthemums are tried and true components of winter floral arrangements. It's not just about flowers - holly, pinceones, berries, bark, and evergreens make excellent accents with a fresh, exhilarating fragrance.
Flowers available year-round
Though some flowers are found at specific times of the year, there are some not particularly affected by changing seasons, such as alstroemeria, anthurium, aster, bourvardia, carnation, chrysanthemum, gerbera daisy, lily, and Asiatic lilies. There are beautiful occasions to celebrate all year round. So it's only fitting that there are year-round flowers to help us celebrate those occasions - beautifully. Dozens of farms and flower growers in the USA and worldwide offer hundred of flower varieties to our florists. They can purchase an extensive selection of fresh flowers that may not be in season in the USA but are available in Colombia, Ecuador, Costa Rica, Holland, Thailand, and South Africa.