TELEFLORA SAVES VALENTINE'S DAY!
Debuting February 3rd!
New, Complimentary Hotline Helps Valentines Across America Write Personalized,
Heartwarming Notes to Accompany Their Beautiful Bouquets
LOS ANGELES (January 25, 2016) – Words are hard. We can help! Teleflora makes ordering bouquets simple…it's the love note that's tough! As Teleflora's Valentine's Day gift to America, the all-new, FREE "Love Note Concierge" (1-844-IT-IS-LOVE) debuts on February 3rd – 12th just in time to save Valentine's Day!
For more than 80 years, Teleflora, the world's leading flower delivery service, has delivered flowers to millions of Valentines across America. Every year, while ordering beautiful bouquets gets easier, consumers struggle to craft that personal, special and important accompanying note! Now, thanks to the talented, thoughtful team at Teleflora's "Love Note Concierge," writing the perfect sentiment is easier than ever with a personal coach to help you express everything you want to say to your loved one. And there's no charge, no purchase, no strings, just words of love!
"Yes, 'Love Note Concierge' is free, friendly and just a phone call away," exclaimed David Dancer, Teleflora's executive vice president and head of marketing. "Valentine's Day is hard enough without having to struggle to find the perfect gift and the perfect words, so we're here to deliver both!"
Sure to be a Valentine's Day essential, Teleflora's "Love Note Concierge" is an important part of how the brand helps consumers everywhere explore "What Is Love?". This theme is highlighted in Teleflora's all-new video set to debut on February 1st, which captures the countless acts and expressions of love that touch our hearts and enrich our lives.
Teleflora's breathtaking new collection of 2016 Valentine's Day bouquets make expressing your one-of-a-kind love so easy and meaningful. All of Teleflora's sweet and stunning Valentine's Day 2016 bouquets are available on Teleflora.com beginning January 25, 2016.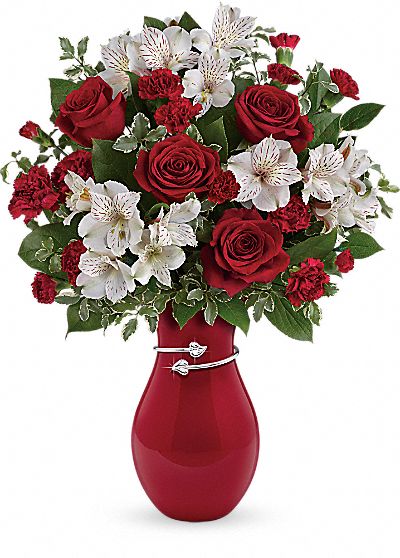 Teleflora's Pair Of Hearts Bouquet

(Available on Teleflora.com for $69.95)
For your soul mate, the symbolism of these two perfect connecting hearts wrapped around this glistening hand-glazed ceramic vase is the perfect match. Celebrate your Valentine with this gorgeous bouquet filled with red roses, red carnations and white alstroemeria that is ideal for expressing your heartfelt love and appreciation.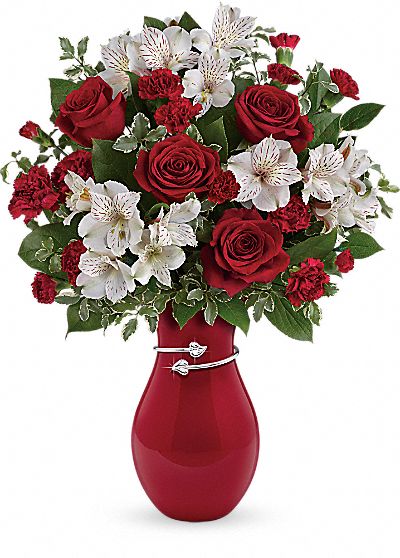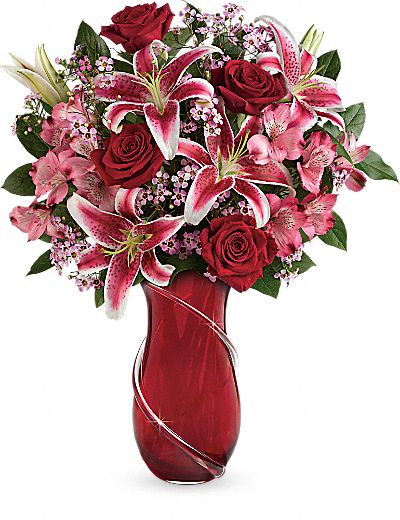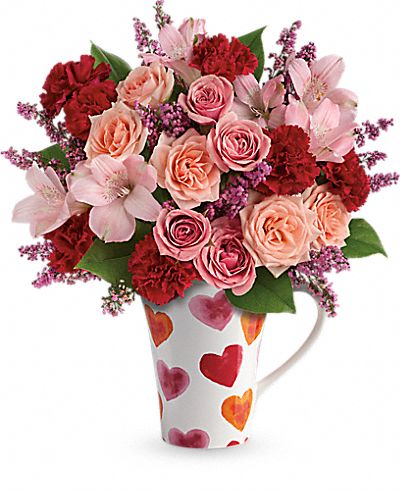 Teleflora's Lovely Hearts Bouquet

(Available on Teleflora.com for $49.95)
Playful and sweet for mother, daughter or friend, dazzle and delight with this cheerful 2-in-1 floral gift. Cheerful peach, pink and red spray roses bountifully flutter amongst hand-painted watercolor hearts that dance across this oversized food-safe mug that is sure to deliver long-lasting enjoyment.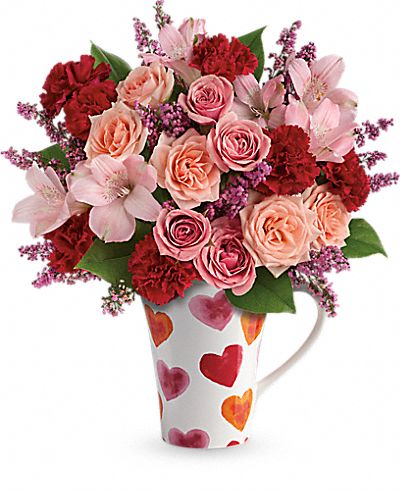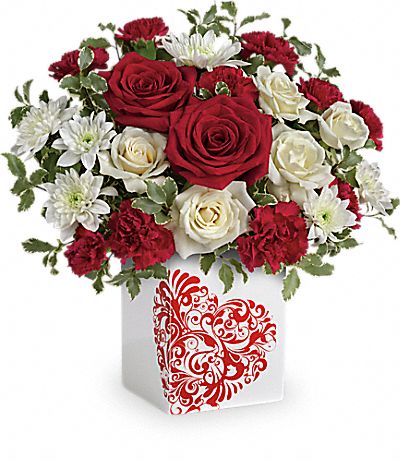 To place an order for a beautifully-arranged floral gift, hand-crafted and delivered by a local florist anywhere in the country, visit www.teleflora.com.
About Teleflora
Teleflora brings together the time-honored tradition of sending flowers with the modern benefits of an advanced florist network. By tapping over 13,000 member florists in North America alone, Teleflora offers the kind of personal touches, artistry and expertise you expect from a trusted neighborhood florist—even if that neighborhood is across the country. No prepackaged flowers in nondescript boxes dropped on your doorstep—Teleflora's network of professional florists create artistic arrangements personally delivered in a vase, often on the same day. And, with the organization's pioneering "Flowers in a Gift" Collection, the recipient gets a keepsake that turns the treasured gesture of a bouquet into a lasting memento. Luxe yet affordable, aspirational yet accessible, Teleflora makes every day an occasion. Follow Teleflora on Facebook.
CONTACT:
Crystal Espinosa (
crystal.espinosa@wonderful.com
)
310.966.4665