TELEFLORA HONORS MOMS THIS MOTHER'S DAY
WITH ITS NEW "ONE TOUGH MOTHER" CAMPAIGN

Teleflora makes it easy to give thanks for the strength and
love it takes to be a mom with a NEW collection of Mother's Day bouquets
LOS ANGELES (April 18, 2016) – No one ever said motherhood was easy. It takes strength, courage, love, determination, and sacrifice. That's why Teleflora, the world's leading floral delivery service, is celebrating these inspiring heroes with the launch of the "One Tough Mother" Campaign and a new collection of Mother's Day bouquets available now at Teleflora.com.
As a special tribute to mom's "tough, gritty, no-pain-no-gain" job, Teleflora is unveiling a touching new Mother's Day video ad on YouTube, Facebook and Instagram on April 25th. The video ad is the newest in a collection of critically-acclaimed Teleflora holiday videos, which captures the sentiment of gifting flowers with some of the most heartfelt and touching life moments shared between loved ones. In addition to the video, moms and their children are encouraged to share their personal Mother's Day stories on social media with #OneToughMother.
"On Mother's Day, we often focus on the maternal love and support moms give their children," said David Dancer, Teleflora's executive vice president and head of marketing. "But there are so many more inspiring motherhood moments – including all the sweat, tears, and hard work that moms give their kids every day. That's why we're making mom our hero this holiday."
The National Retail Federation (NRF) states two out of three U.S. shoppers, representing more than 67% of consumers, will purchase flowers this Mother's Day. As the most popular Mother's Day gift, second only to greeting cards, Teleflora is ramping up for one of its busiest floral holidays. While three out of 10 shoppers are anticipated to buy their Mother's Day gifts online, Teleflora is making it easy for shoppers with a fabulous collection of NEW Mother's Day bouquets. Share the love with Teleflora's new collection of Mother's Day 2016 bouquets, each designed to capture the hearts and appreciation of every mother, grandmother, aunt, sister or friend.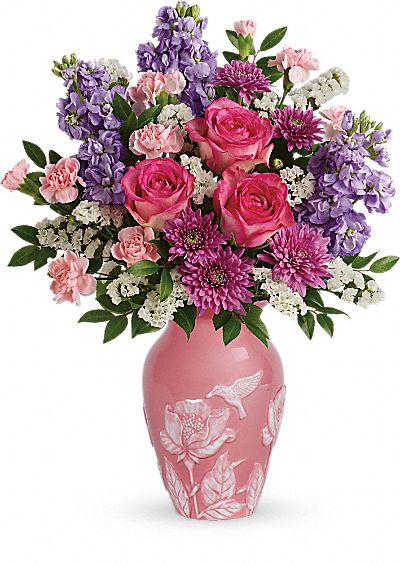 Teleflora's Love And Joy Bouquet

(Available on Teleflora.com for $59.95)
The perfect gift to celebrate mom and tickle her pink! This elegant bouquet is brimming with springtime's finest colors, featuring hot pink roses, miniature pink carnations, huckleberry, lavender stems and lavender chrysanthemums all nestled within a gorgeous pink blooming flower and hummingbird vase, the ultimate symbol to show mom your appreciation and love.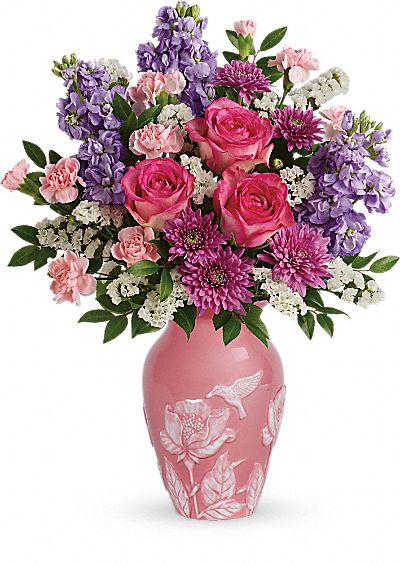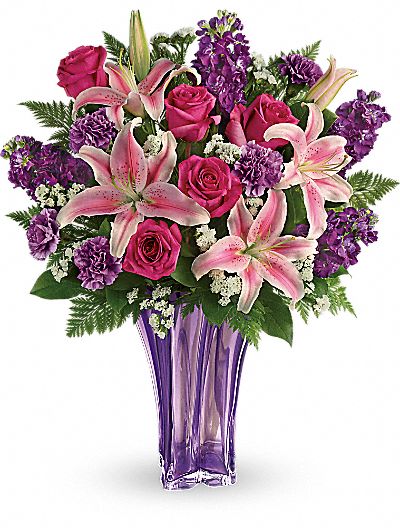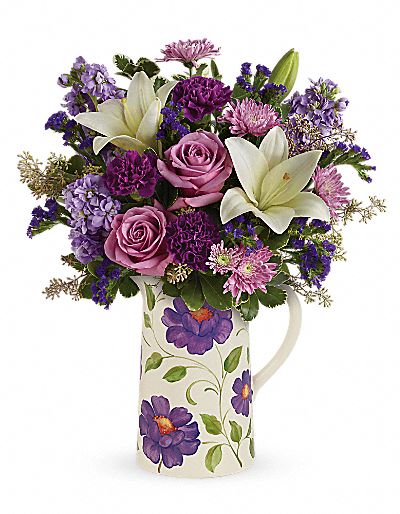 Teleflora's Garden Pitcher Bouquet

(Available on Teleflora.com for $69.95)
Fill mom's heart by honoring her timeless devotion with this charming 2-in-1 gift she will cherish. A luxurious mix of rich lavender roses and chrysanthemums, fragrant white lilies and eucalyptus is hand-delivered in a tall, rustic Provencal-style water pitcher (FDA-food/microwave/dishwasher safe) that is perfect for mom's springtime entertaining.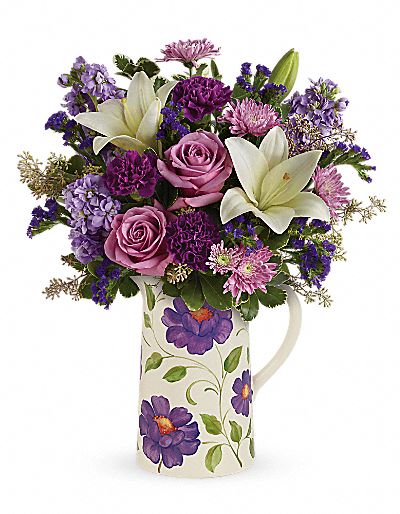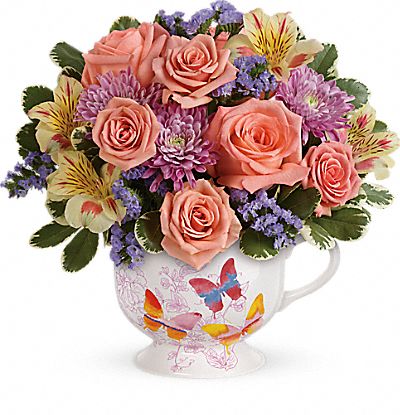 Teleflora's Butterfly Sunrise Bouquet

(Available on Teleflora.com for $49.95)
Playful and sweet just like mom, this brilliant bouquet of peach roses, yellow alstroemeria, and lavender chrysanthemums will make every mom's heart flutter with happiness. This 2-in-1 gift also serves as a darling oversized keepsake mug (FDA-food/microwave/dishwasher safe) adorned with dancing watercolor-hued butterflies for long-lasting enjoyment.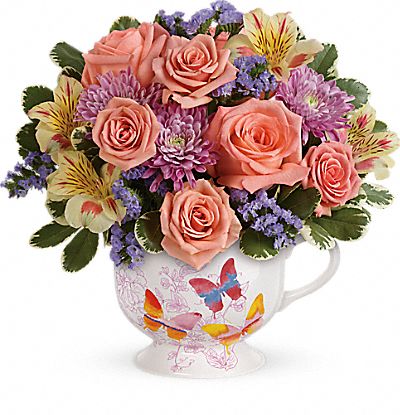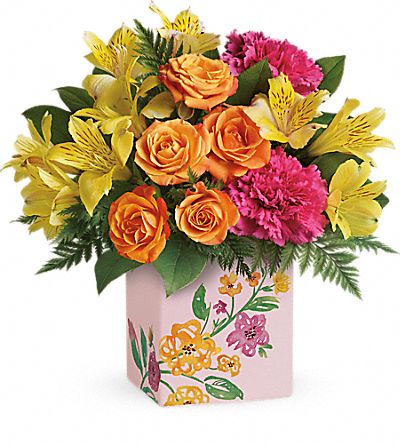 Teleflora's Painted Blossoms Bouquet

(Available on Teleflora.com for $39.95)
Surprise sisters, daughters, and new moms by showering her with a bright, joyful floral bouquet bursting with a lovely medley of orange roses, yellow alstroemeria, and brilliant pink carnations. Arrives professionally-arranged in this delicate pink ceramic cube vase with painted blossoms to complement the fresh blooms of spring!
To place an order for a beautifully arranged floral gift, hand-crafted and delivered by a local florist anywhere in the country, visit www.teleflora.com.
About Teleflora
Teleflora brings together the time-honored tradition of sending flowers with the modern benefits of an advanced florist network. By tapping over 11,000 member florists in North America alone, Teleflora offers the kind of personal touches, artistry and expertise you expect from a trusted neighborhood florist—even if that neighborhood is across the country. No prepackaged flowers in nondescript boxes dropped on your doorstep—Teleflora's network of professional florists create artistic arrangements personally delivered in a vase, often on the same day . And, with the organization's pioneering "Flowers in a Gift" Collection, the recipient gets a keepsake that turns the treasured gesture of a bouquet into a lasting memento. Luxe yet affordable, aspirational yet accessible, Teleflora makes every day an occasion. Follow Teleflora on Facebook.
CONTACT:
Crystal Espinosa (
crystal.espinosa@wonderful.com
)
310.966.4665