TELEFLORA CELEBRATES GENERATIONS OF LOVE THIS MOTHER'S DAY
Teleflora Teams Up with Ancestry to Pay Tribute to Mom with Exclusive Floral Gifts
LOS ANGELES (April 22, 2015)
– For every mom, there is a great woman that came before her to ground her, guide her… with motherly advice, and inspire the essential teachings of motherhood....with patience and unconditional love. Whether it was cheering you on at every soccer game, cooking your favorite meal on your birthday, showering you with hugs and kisses just because, or being a devoted grandmother to your children – mom does it all. Since 1934, Teleflora, the world's leading flower delivery service, has been delivering for generations of moms. Teleflora is the same florist family who helped celebrate Mother's Day for your great grandmother 80 years ago, and proudly continues the tradition of recognizing and honoring moms of every generation to this day.
With so much history celebrating mom, it's no wonder that in honor of Mother's Day, flowers rank among the top two gifts, according to the National Retail Federation (NRF). Moms around the country report wanting to receive gorgeous bouquets of flowers to commemorate their special day. Top markets including Los Angeles, San Francisco, New York, Houston, and Chicago include flowers in the top five Mother's Day gifts rankings. So give mom what she wants this year!
This Mother's Day, Teleflora has teamed up with Ancestry, the world's leading family history service, to pay tribute to mom with a fanciful 3-in-1 floral present. These floral gifts include stunning bouquets in lovely collectible containers plus a complimentary exclusive one month membership to Ancestry.com to create mom's family tree. Beginning in April 2015, with the
launch of the new Mother's Day bouquets
, anyone who purchases Teleflora's Beautiful Butterfly Bouquet or Teleflora's Artful Elegance Bouquet will
receive a complimentary exclusive-to-Teleflora one-month membership to Ancestry.com
, valued at $19.99 to trace mom's roots and take advantage of one of the most popular pursuits in the United States.
On April 27th, Teleflora will carry on our proud tradition of honoring moms of every generation with the launch of a
Generations of Love Facebook app
. The app encourages Teleflora fans to celebrate their loved ones by creating and sharing a generational photo collage. Users can upload their photos into the seamless app template to wish the women in their lives a very special day. And just for completing the process, Teleflora fans will receive a special discount offer on a Teleflora Mother's Day bouquet. Also on April 27th, Teleflora will unveil the first of several heartwarming videos surprising real moms with special and unexpected reunion.
Teleflora's 2015 Mother's Day floral collection includes:
(All Mother's Day 2015 bouquets will be available for sale on Teleflora.com beginning April 22, 2015)
Teleflora's Beautiful Butterfly Bouquet
(Available on Teleflora.com starting at $69.95) Send her butterfly kisses with this 3-in-1 gift that celebrates Mom's infinite love. Mom will cherish this stunning floral arrangement of fresh roses, lilies and seasonal stems that arrives hand-arranged in a ceramic Teleflora exclusive vase in a rich shade of lavender and adorned with a beautiful crystal butterfly pendant.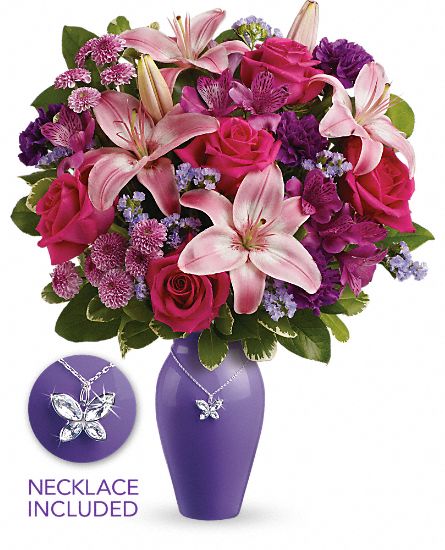 Teleflora's Artful Elegance Bouquet
(Available on Teleflora.com for $104.95) No one epitomizes elegance more that your favorite matriarch. Now surprise her with this classic floral bouquet overflowing with lavender roses, white lilies, and fresh purple blooms in this exquisite Venetian hand-blown glass vase.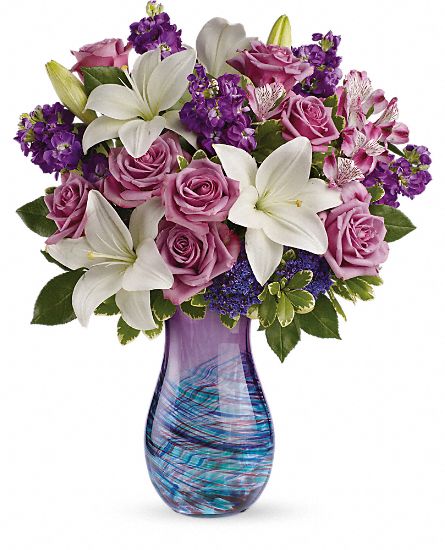 Teleflora's Field of Butterflies Bouquet
(Available on Teleflora.com starting at $69.95) Just as butterflies are the jewels of the garden, remind mom just how beautiful and special she is with this gorgeous springtime fresh floral bouquet and custom vintage-style box with lid that makes a lovely jewelry box.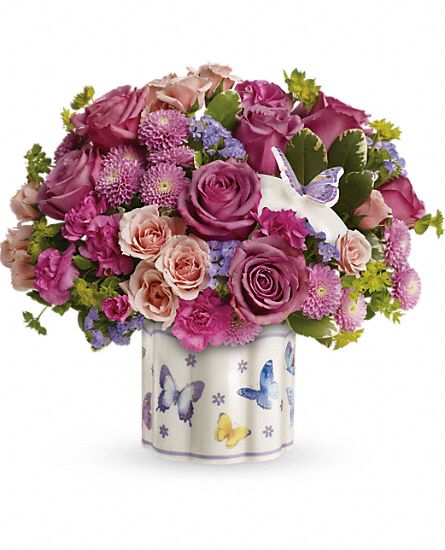 Teleflora's Fill My Heart Bouquet
(Available on Teleflora.com starting at $59.95) Pour your heart into expressing thanks and gratitude to Mom with this charming French country botanical floral arrangement artfully presented in a delicate ceramic pitcher that is FDA-approved, microwave and dishwasher safe.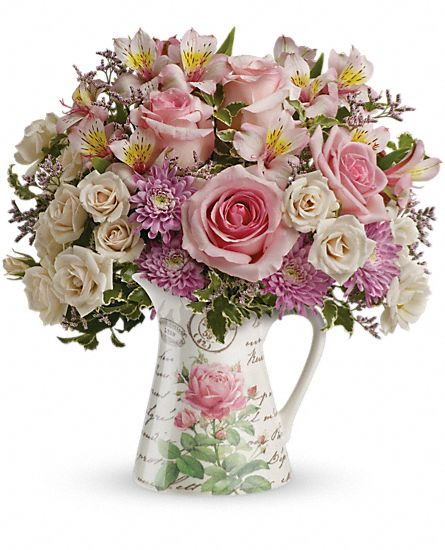 CONTACT:
Crystal Espinosa (
crystal.espinosa@wonderful.com
)
310.966.4665