Over the years, Valentine's Day has become more about gifts and less about sharing a great conversation or spending a full day with the ones you love. However, there are ways for the hopeless romantics out there to get back to the root of the day of love. Here are some great ideas:
Write out reasons you love your lady
A great way to make your girlfriend or wife feel special and loved every day is to compile a list of 365 reasons why she's the one. Get a notepad – perhaps heart shaped for the occasion – and write one message on each piece of paper so she'll have something to look forward to all year long.
Map your love
Another meaningful gesture to consider is to get a map of the U.S. and track the journey you two took to find each other. For example, if you are from Boston and your lady is from Tampa, use red string and a tack to label these areas and then connect the strings to the place where you fell in love, such as at college in Maine. Have the map framed and present it to your special gal.
Send her gorgeous flowers
No Valentine's Day celebration is complete without flowers, so sending her Valentine's Day flowers like Heart and Soul Bouquet by Teleflora at both the office and at home is sure to get her smiling.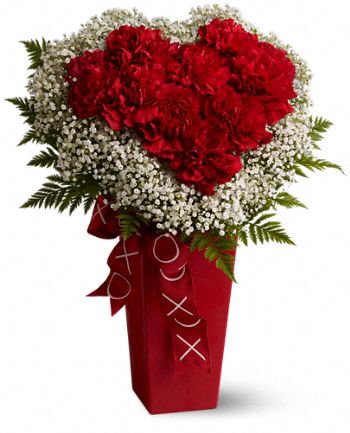 This article is brought to you by Teleflora – a leader in the flower delivery service for over 75 years. Teleflora helps its customers buy flowers online and specializes in bringing the freshest available flowers for a variety of holidays and occasions – all hand-delivered in keepsake vases by the best local florists.