Spring brings a lot of excitement for high schoolers. School is almost over for the year, the warm weather makes it easy to spend time with friends and, of course, prom has finally arrived. For high school juniors and seniors all over the country, prom is one of the biggest events of the year. For girls it's all about finding the perfect dress, and a matching corsage is an important part of the ensemble. Prom corsages can be simple and elegant or fun and funky, but no matter what, it's essential to care for them properly to keep them looking amazing on prom night. Here's what you can do to keep your daughter's corsage fresh and prevent it from wilting: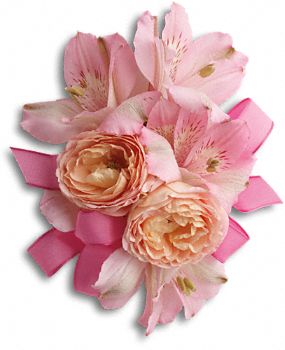 Don't Order It Too Early
The No. 1 way to ensure your high schooler's corsage doesn't wilt is to avoid getting it too early. Corsages look best when they're delivered no earlier than the day before the dance, and they should ideally be delivered that same day. Since prom season is a busy one for florists, feel free to order your corsage in advance – simply choose the delivery date you need, and if you have a preference, the local florist you'd like to order it from.
Spritz It with Water
When your corsage is delivered, you should take a few steps to keep the flowers looking fresh and vibrant. First, use cool water and a spray bottle to lightly spritz the stem of each flower. Because corsages don't fit in vases, spraying the ends of the stems will keep the blossoms open.
Keep It in the Container
If your corsage is in a plastic container, keep it in the box for as long as you can (right up until it's time for your daughter to put it on). Or, transfer it to a plastic sandwich bag, remove as much of the air as you can and seal the bag tightly. While you should make sure the bag isn't crushing or bending any of the flowers, the less oxygen that remains in the bag, the more likely your flowers will remain fresh for longer.
Refrigerate
Refrigeration is key to prevent your corsage from wilting – especially if you're preserving the blooms overnight. A few tips for refrigeration: First, place the corsage where it won't be jostled or crushed by other food. Also, refrigerator temperatures vary shelf by shelf – your daughter's corsage shouldn't be kept so cold that it might freeze, so place it near the front (or in the door) and far away from the freezer. Finally, try to avoid refrigerating the flowers for over 24 hours.
Use a Sealant
When it's almost time for your daughter to get ready, spray a flower sealant lightly over the blooms and stems. Sealants are easy to find at florist shops or garden stores, and using one will keep the flowers as protected as possible during the dance.
Post-Prom Preservation
Once the big day has come and gone, ask your daughter if she wants to preserve the corsage as a keepsake. If she does, wrap a rubber band around the stems just under the blossoms and hang the whole arrangement upside down in a dry and dark spot. Within a couple of days the flowers will be completely dry and can be kept for years.