How Did Giving Flowers for Mother's Day Originate?
Mother's Day may be an annual tradition today, but that wasn't always the case. Even now, Mother's Day remains a cultural phenomenon, and most countries celebrate the holiday on different days of the calendar year. One thing that remains constant is the link between mothers and sending flowers on Mother's Day, the quintessential symbol of fertility. As it turns out, there's a lot more to Mother's Day than you might've realized. Read on to discover the history of Mother's Day and why we gift the moms in our life with beautiful blooms:
A brief history of Mother's Day
Mother's Day as Americans know it technically dates back to 1908. Anna Jarvis organized a formal celebration at her church in Grafton, West Virginia, to honor her recently deceased mother. As it turns out, lots of people were excited to celebrate their moms! The holiday caught on, and soon Americans across the nation were celebrating the day. In 1914, President Woodrow Wilson recognized the event as a national holiday.
Why flowers?
For centuries, motherhood has been synonymous with springtime and plants, as the two are representative of life and fertility. Flowers also emanate beauty and purity, attributes many of us associate with our own moms. Most importantly, we give our moms flowers on Mother's Day because, well, they love them! Who could resist the scents and colors of fresh flowers?
Shop for Mother's Day flowers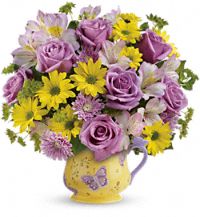 Butterfly Serenity Bouquet
Floral Mother's Day gift ideas
Looking for a beautiful bouquet to give your own leading lady? Teleflora's Butterfly Serenity Bouquet is a gorgeous choice, featuring lavender roses and chrysanthemums, yellow daisy spray chrysanthemums, alstroemeria and fresh greens. Spring Sonata Bouquet will strike the perfect chord in your mom's heart, and is bursting with color to boot! This design incorporates all the tried-and-true favorites: roses, tulips, carnations, asters and button mums. If your mom is a girly-girl, she'll love Teleflora's Polka Dots and Posies arrangement, which includes hot pink roses pretty white daisies.
AUTHOR:
This article is brought to you by Michelle Farrell and
published by Teleflora.