[et_pb_section admin_label="section"][et_pb_row admin_label="row"][et_pb_column type="4_4″][et_pb_text admin_label="Text" background_layout="light" text_orientation="left" text_font_size="14″ use_border_color="off" border_color="#ffffff" border_style="solid"]
Valentine's Day is meant to bring couples closer together, though gift ideas can vary depending on the amount of time you two have been together. Here are some Valentine's Day date ideas for relationships of any length:
A year or less
The first year of a relationship can be wonderful, some call it the honeymoon phase. Despite how strong of feelings you might have for your new girl, you'll want to play it cool this first Valentine's Day. Try to keep it simple by heading to a low-key, yet still romantic restaurant and be sure to bring flowers. Opt for pretty Valentine's Day lilies or tulips for your valentine over roses.
TIP: If you have just entered into a relationship, your new partner may not be eager for others to know about your romance just yet, so hold off on sending Valentine's flowers to his/her workplace, instead have your bouquet delivered to their home.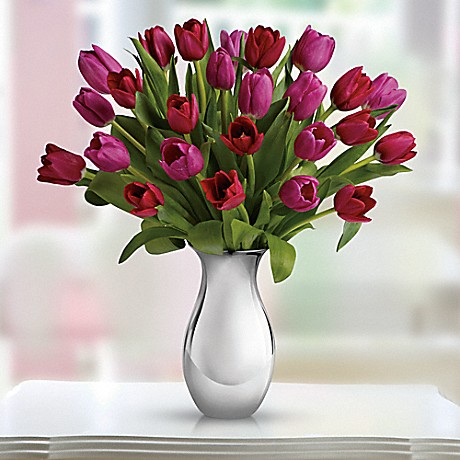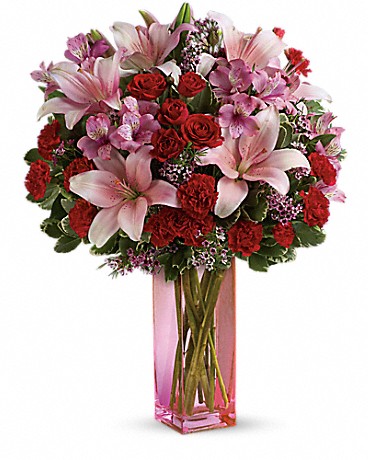 Long-term
Whether you've been married for years or have been dating for a couple or more, you might need to go for more grand gestures to please your gal on February 14. Sending her Valentine's Day roses like Teleflora's True Romance Bouquet, each day leading up to the day of love might get her heart racing, as will gifting her with a gorgeous new piece of jewelry.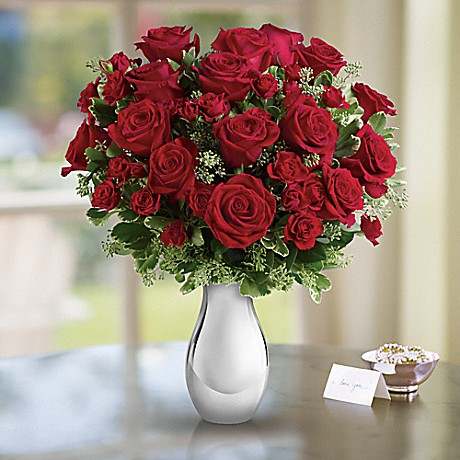 WHERE TO DELIVER THE FLOWERS TO?
You probably know your partner well enough by now. If he/she is shy and reserved, they may not appreciate a showy present delivered to their workplace, it may make him/her uncomfortable.
If your recipient isn't shy and likes attention, a bouquet delivered to their workplace may be your best option. Co-workers can admire their bouquet and your partner will feel loved and included when their colleagues floral gifts start to arrive at the office. Just be sure that he/she has a place at work to display the flowers, if he/she lacks a desk, sending her flowers likely isn't as good an idea.
[/et_pb_text][et_pb_text admin_label="Text" /][/et_pb_column][/et_pb_row][/et_pb_section]