[et_pb_section][et_pb_row][et_pb_column type="4_4″][et_pb_text admin_label="Text" background_layout="light" text_orientation="left" use_border_color="off" border_color="#ffffff" border_style="solid"]
For the most part, dating is great. However, it can also be seriously confusing and difficult at times. Who pays for dinner? What type of relationship is he looking for? Does she like me? Luckily, there's one thing that doesn't have to be at all confusing about relationships: sending flowers. In fact, you almost can't go wrong when buying your girlfriend flowers – the gesture alone is thoughtful and generous, and any bouquet you choose will be beautiful. That said, if you're planning on sending flowers to a lady in your life and you're finding the process a bit puzzling, that's OK. Take a look at this guide to sending flowers to your girlfriend:
Why Send Flowers?
Flowers are one of the most widely popular gifts across the world, which is why they're such a great option when you're considering gifts you may want to give your girlfriend. Sending flowers is an easy way to show that you care about her, that you're thinking about her or even that you love her, when you don't feel like telling her is quite enough.
When to Send Flowers
There are a number of occasions when it's customary to send someone flowers, including birthdays, anniversaries and Valentine's Day. Sending flowers on these days is often actually a bit easier, since you'll be able to find occasion specific arrangements. For instance, Teleflora's Brilliant Birthday Blooms is a beautiful way to celebrate a birthday, while the Be My Love bouquet can help you wish your sweetheart a happy anniversary.
There are other occasions that may call for flowers that aren't quite as set in stone, though. Say you want to apologize for something or congratulate her on receiving a promotion at work, for instance. Flowers can help you do that!
On Being Spontaneous
Just because flowers are often sent on special occasions doesn't mean that's the only time they're appropriate and appreciated. There's a lot to be said for making the gesture spontaneously – when it's unexpected this gift can be even sweeter.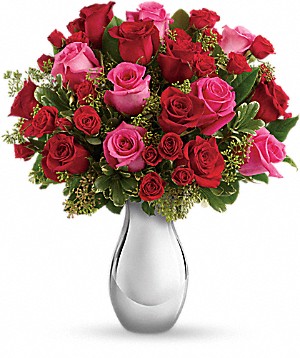 How to Choose Flowers
Choosing flowers is perhaps the most overwhelming part of the process for many guys, but it doesn't have to be. If you've never sent your girlfriend blooms before, remember that there are some tried-and-true options that everyone will like. Types of flowers like roses, tulips, daisies and mums are all very popular, which means they're all pretty safe bets. Another good option? Any bouquet with a variety of different flowers. Diverse and colorful arrangements are lovely and very well-liked. As you get to know your girlfriend better, ask her what she likes – that way you'll be better prepared when sending her a bouquet in the future.
Where to Send Flowers
There are two places it makes sense to send flowers: her home and her work. Sending flowers to her work can be a lot of fun because she'll be able to show them off to co-workers and enjoy seeing them on her desk for several days. If you're opting to send them to her house or apartment, make sure she'll be there at the time they arrive (Teleflora's arrangements are all hand-delivered directly to the door).
Should You Include a Note?
Sure, flowers can say what you're feeling without you having to use words, but it's still a good idea to include a message when sending blossoms to your significant other. Rather than a simple "Happy Anniversary," template-like message, say something personal and from the heart. The note doesn't have to be long or complicated, but if it's written by you, she'll love it even more.
No matter what the occasion, flowers make a lovely gift that your girlfriend will definitely appreciate.
[/et_pb_text][et_pb_cta admin_label="Call To Action" global_module="6350″ saved_tabs="all" button_url="http://www.teleflora.com?srccode=SC_NB&promotion=leaf" url_new_window="on" button_text="Shop Teleflora" use_background_color="on" background_color="#e60895″ background_layout="dark" text_orientation="center" use_border_color="off" border_color="#ffffff" border_style="solid" custom_button="off" button_letter_spacing="0″ button_use_icon="default" button_icon_placement="right" button_on_hover="on" button_letter_spacing_hover="0″]
[/et_pb_cta][/et_pb_column][/et_pb_row][/et_pb_section]