Whether there's a man in your life who's about to become a first-time father, or one who has a little baby, this Father's Day is probably a very big deal for him. Just as we celebrate the amazing women in our lives on Mother's Day, Father's Day is a time to honor the men who play a vital role in raising their little ones with love, care and guidance. But for soon-to-be or first-time dads, that journey is just beginning. Here are a few gift ideas to celebrate the new dad in your life this Father's Day:
1. A Money Tree
This gift is a little silly and a little sentimental. Money trees, which are also known as Pachiras, are a type of plant native to Central and South America. They're said to bring luck and good fortune – and what new dad doesn't need a little bit of that? But, on a sweeter note, sending a plant to dad on Father's Day can also remind him the importance of caring for and nourishing a living thing. Plus, as his tree grows, so will his baby.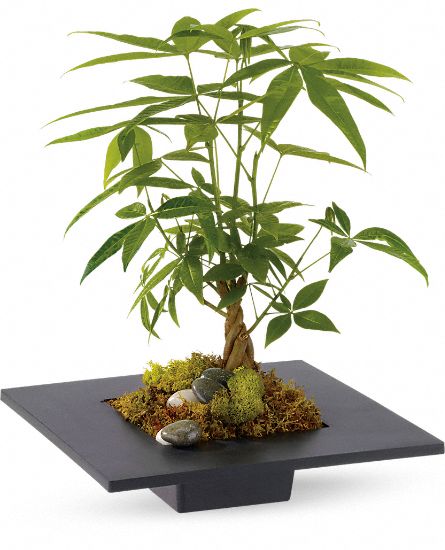 Teleflora's Money Tree comes in a square black container, and would look beautiful in the new father's home office or anywhere it will get partial sunlight.
2. A Manly Diaper Bag
New moms need diaper bags to organize everything from diapers to formula to toys for the baby. However, these are inevitably frilly and girly, which means new dads don't especially love to carry them around. Pick out a manlier version of a diaper bag, or special order one with his favorite team logo on it – he'll love the gesture.
3. A GoPro
Even though we all have cameras in our smartphones these days, adventurous men who love gadgets and new technologies may really appreciate a wearable video camera. GoPros can be used on even the most daring escapades. Plus, anytime dad wants to take a video with the baby, he'll have his hands completely free.
4. Matching Jerseys
If the new dad in your life is a big sports fan, a jersey may be the perfect Father's Day gift for him – especially if you buy the baby a miniature version. There are tons of sports onesies online, so do some research to see if you can find one for the team of your choice. Is dad a baseball fan? Buy him a new baseball glove and a kid-sized one – he'll look forward to the day he can finally play catch with his son or daughter in a few years.
5. A Daddy Survival Kit
Moms aren't the only people who need a break every now and then. So, put together a special survival kit with a gift certificate for a night out or a massage, along with some other small presents. When he really needs to get out of the house, he'll have a ready-made reason!
6. A Book Just for Daddy to Read
Parents love reading bedtime stories to their children because it's a time to connect, cuddle and wind down. If you know the man in your life has a favorite children's book, pick up a new copy he can read to the new baby. If not, choose a story you know he'll love. It'll be his own bedtime story to read to the little one.
7. Whiskey Stones
Parenting is a tough job, and there's nothing quite as relaxing as sitting down at the end of the day after putting the baby to bed. If the new father you know loves relaxing with a glass of whiskey or scotch, pick up some whiskey stones he can use instead of ice – they'll make him feel pampered.