Mother's Day is one of the biggest holidays of the spring season. It's an entire day meant to commemorate the amazing women in your family, whether you're celebrating a mother, a grandmother or even a wife. But there's one set of women that you shouldn't forget about on Mother's Day, and that's the expectant mothers you know and love. Research has found that many women begin feeling maternal immediately upon discovering they're pregnant, which means even if their babies aren't born yet, these moms-to-be are still mothers at heart. If you're looking for the best gift for your pregnant wife, here are five ways you can help them celebrate Mother's Day:
1. Picture Perfect
If you've ever had a baby, you know how amazing it is to document every step in his or her life. As a result, a good first Mother's Day gift is one or more decorative picture frames so she can easily display pictures of her baby. Buy a set of nice frames or even make your own to add a personal touch. To make the gift even more special, purchase wooden or metal frames and have them engraved with the baby's name. Another great picture-related gift? A family portrait session with a local photographer!
2. Her Beautiful Belly
If your mom-to-be friend is already showing, a great way to celebrate Mother's Day with her is to take her to get a cast of her belly. The cast will be a keepsake of her pregnancy that she can hold onto for years. Every time she looks at it, she'll remember the months leading up to motherhood!
3. Breakfast in Bed
If you're asking yourself, "What should I get my pregnant wife for Mother's Day," there's one gift you can't go wrong with: a little pampering. To that end, if you're living with a mom-to-be (perhaps she's your wife or daughter), a great way to celebrate Mother's Day with her is to cook breakfast in bed. Carrying a baby around is hard on pregnant women's bodies, so some R&R may be just the way to spoil her. Whip up some of her favorite foods, whether she loves cinnamon rolls and bacon or quiche and pancakes. The gift is thoughtful and personal, and she'll love being able to relax for a while. And some special touches, like a pretty presentation or adding a bud vase with a couple of spring tulips to the tray can make the gift even more special.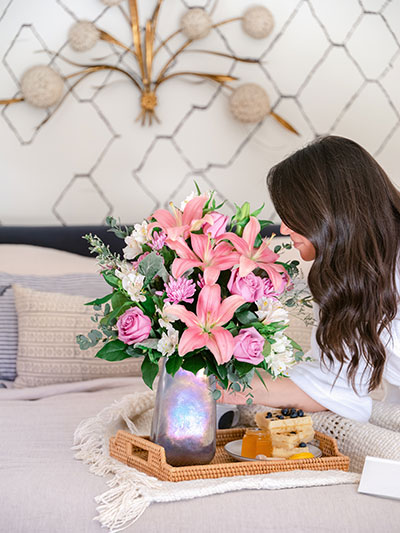 4. A Prenatal Massage
Speaking of pampering, a prenatal massage is a great Mother's Day gift for a pregnant wife. Check out the salons in your area and see if any offer gift certificates for the service that you can present to her on the holiday. Feel free to add other spa or salon services as well, such as manicures and pedicures, both of which can feel heavenly during late pregnancy.
5. A Floral Surprise
If your favorite expectant mother isn't local, flowers are a great way to send her your love. Have a bouquet or arrangement hand-delivered to her home that she'll be able to enjoy for days or even weeks (sending a potted plant, such as a hyacinth or orchid will make the gift last even longer!). Beautiful pink bouquets or pops of color are perfect for celebrating new moms.
Remember that no matter which Mother's Day gift for your pregnant wife you choose, you should always include a thoughtful and personal handwritten note. She'll love receiving the messages, and they'll make her even more excited to meet her new son or daughter.