TELEFLORA, MIGI PARTNERSHIP PRODUCES
WITH FRESH NEW TAKE ON BABY GIFTS
Teleflora's Exquisite Flowers and MiGi Girls' Stylish Décor Make Unforgettable Bouquets to Welcome a Family's Newest Arrival
LOS ANGELES (June 22, 2009) – Teleflora, the world's leading flower wire service offering only hand-arranged, hand-delivered floral arrangements, today announced its exclusive two-year partnership with MiGi®, a design and lifestyle company known for embracing individual, affordable style. Designed by Teleflora and the trend-setting designers known as the MiGi Girls, Michele Adams and Gia Russo, four new baby-themed floral gifts showcase the girls' eyes for high style and demonstrate Teleflora's arrangement know how.
"We are delighted that Teleflora is the first floral wire service company to offer an exclusive line of bouquets with the MiGi Girls," said Shawn Weidmann, President, Teleflora.  "All of our floral arrangements are hand-arranged, hand-delivered by local florists and arrive in exquisite keepsake containers that can be used even after the flowers are gone.  Michele and Gia have developed a reputation for being experts who offer practical yet forward-thinking solutions to design challenges, making them the perfect partner for Teleflora."
A new baby is an exciting time for many reasons, one of which is decorating a new room. When deciding on the décor, there are many styles, patterns and themes to choose from. According to Consumer Reports, a typical middle-income family in the U.S. will spend an average of $12,673 on baby's first year alone.  Parents want the best for their children and finding clever gifts that offer functionality even after the first year will help cut down on cost.  Flowers give any nursery a finished look, and Teleflora and the MiGi Girls have created floral gifts that combine practicability and fashion.  For example, MiGi's Baby Circus Bouquet by Teleflora, available in blue or pink, and decorated with circus animals, is the perfect accessory in any nursery.  This charming, double-handled ceramic container arrives bursting with white roses, white button-spray chrysanthemums, white spray roses and eucalyptus.  Once the flowers are gone, this keepsake container is great for holding baby combs, cottons balls and other accessories.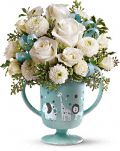 "We know how exciting it is to welcome a new baby into the world," said Michele Adams, Partner, MiGi.  "We are so thrilled to be partnering with Teleflora on this new line of arrangements that will offer friends and family a chic yet practical way to send their congrats and well wishes," added Gia Russo, Partner, MiGi.
"Baby showers are fun parties to plan, but they can be a lot of work—selecting the menu, designing the invitations, choosing decorations and deciding which games to play. Teleflora, with its network of industry leading florists, is the authority on personally designed flowers that make the most impact on its recipients and the MiGi Girls, who have written best-selling books including "Baby Showers," know how to create an incredibly special and elegant baby shower.  A beautiful flower decoration such as Teleflora's MiGi Baby Elephant Bouquet is an easy way to add a light, fresh touch to the décor. This stylish yet modern floral gift reveals MiGi's unique flair and features a pull string and movable wheels.  It is available in pink or blue with white roses, white button-spray chrysanthemums, white spray roses and eucalyptus. 
For more information on Teleflora's partnership and products with the MiGi Girls or to place an order for a hand-arranged, hand-delivered bouquet by a Teleflora member florist anywhere in the country, visit www.teleflora.com.
About Teleflora
Teleflora is the world's leading flower service offering the best choice in flower arrangements and convenient local delivery. Headquartered in Los Angeles, California, Teleflora has over 20,000 member florists throughout the U.S. and Canada, with an additional 20,000 affiliated florists outside North America. Teleflora offers industry-leading floral arrangements and gifts. Through its extensive member florists' network, Web sites including www.teleflora.com and www.findaflorist.com, and its toll-free line 1-800-TELEFLORA, the company offers consumers fast, convenient and high-quality flowers and keepsake products.
About MiGi
About MiGi Michele Adams and Gia Russo, the creative duo behind MiGi, have been providing practical advice for modern living since 1996 through their television shows, lifestyle books, product lines and magazine editorials. MiGi's television credits range from Fine Living Network's The Art of the Party with the MiGi Girls to TLC's REAL SIMPLE. REAL LIFE, and they host the AOL series Entertaining with Michele and Gia. MiGi has authored three lifestyle books: At Home with Friends, Wedding Showers and Baby Showers. They are also the creators of a line of MiGi branded products: The MiGi Baby Collection (nursery décor and accessories) and MiGi Tabletop (items for home and entertaining). Additionally, MiGi has collaborated on a Tiny Prints stationary line with current Tiny Prints designer Kirby Woodson of Petite Alma. For more information on MiGi or to learn more about their product lines, please visit www.MiGiStyle.com.