Whether his taste is classic or contemporary, the key to choosing flowers for a man to wear is to select blooms that reflect his personality. Here are some terrific tips from Marie Ackerman, who runs the Teleflora Education Center in Oklahoma City. Thanks, Marie!
The traditional boutonniere is a single flower pinned to a jacket lapel, often matching the lady the man is accompanying. One of the first flowers for this purpose was cornflowers; they were called "bachelor buttons." Perfect flowers for a traditional boutonniere include the rose, carnation and stephanotis.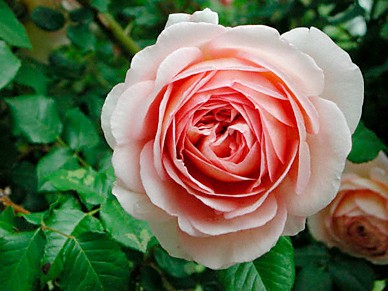 You can never go wrong with a single rose for a traditional boutonniere.
That said, the possibilities are endless so be creative. What about a feather with some beads, a small wreath of fresh herbs or a tiny British flag pin backed by a fresh English ivy leaf?
Always consider the guy who is wearing the flower when you select the flower. Some men won't wear a pink flower – or something he considers too feminine.
Be sure to "size" the boutonniere to the guy – meaning you don't select a full size flower for a 5-year-old ringbearer – it would look silly. Many flowers have miniature versions that can easily be used for this. The goal is to not have the boutonniere seen before the man.
Another way for a guy to wear flowers is a "pocket square" made of flowers. Flowers are glued onto a cardboard square and inserted in the outside pocket of a tux or suit (where a colorful handkerchief might be placed.)
For less formal events (like beach weddings), the groom or groomsmen might wear leis of flowers around the neck or even braided foliage or shells.
Use a pro. A Teleflora florist will prepare the flower/foliage, make sure it is hydrated and spray it with sealant to increase longevity. They will also reinforce the stem with wire and floral tape, which prevents the stem from staining the jacket lapel. Also, most florists will provide pins for wearing the boutonniere.
Read more: Shop for boutonnieres and find a wedding florist.
This article is brought to you by Teleflora on Google+