The Best Graveside Flowers for Mother's Day
Mother's Day serves as a beautiful reminder of the joys and sacrifices of motherhood. While the day is a lovely opportunity to thank the mothers in our lives for all that they do, it can also be a bittersweet time to reflect on the important women in our lives who have passed away. If you're paying tribute to your late mother, grandmother, mother-in-law, spouse, or any other special woman, honor her with some of these beautiful and respectful graveside flowers for Mother's Day:
Lilies
Lilies are a tried-and-true choice for memorial flowers. Long associated with purity, lilies serve as a symbol of the soul's renewed innocence after death. You can incorporate lilies into a Mother's Day graveside arrangement by selecting a bouquet like Heavenly and Harmony for your loved one's memorial. Asiatic lilies, blush pink roses and Queen Anne's lace form a breathtaking piece that is as sweet as it is reverent.
Shop for Heavenly & Harmony bouquet

Roses
Roses come in a variety of hues and are overt in their femininity. Honor your mom with this versatile and beloved bloom. An arrangement like This Magic Moment bouquet is perfect for a Mother's Day memorial, as it incorporates all the colors of spring and rebirth. Peach, yellow and white roses come together to create a canvass of light, feminine colors.
Shop for This Magic Moment bouquet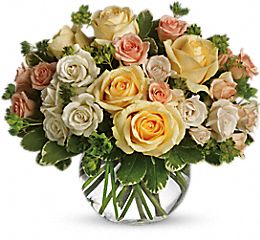 Her favorite flowers
If this special lady had a favorite flower, what better way to honor her than to adorn her gravesite with a bouquet of her choice blooms? If your loved one favored hydrangeas, try Teleflora's So Pretty Bouquet, which features the stunning flower alongside light yellow roses and alstroemeria. The Soak Up the Sun Bouquet is a perfect memorial for the lady who loved bright, yellow sunflowers.
Regardless of which arrangement you choose, graveside flowers for Mother's Day are the perfect way to honor a late family member or friend. Fresh, colorful and vibrant, springtime blooms are a beautiful symbol of life and love.
AUTHOR:
This article is brought to you by Michelle Farrell and
published by Teleflora.