Finding your soul mate is one of the best gifts a person can get, so it's important to hold onto and nourish this treasure in order to make the love last. Even if you tell your special someone you love her on a regular basis, there is plenty more you can do to signify your love on a grander scale. Here are a few ways to express your undying love for your girlfriend or wife:
Surprise her at work
The work day can be stressful for a number of reasons, so popping in from time to time to visit your girlfriend may be a perfect distraction. Not only will saying "hello" show her how much you deeply care about her, but it can also work to keep you in her mind all day long.
Do activities she likes (but you may be less thrilled about)
Let's face it, not too many guys would get excited to go salsa dancing or to a yoga class, but if your gal asks you to go to one such class, you better go – willingly. If you think long and hard, there are probably plenty of times when your lady bit the bullet and did things for you that she'd rather have not, so simply saying "yes" next time she asks for your attention will go a long way in proving your love.
Send her flowers
Valentine's Day just passed, and many guys opted to send their special gals bouquets of flowers to represent their love on this holiday. However, sending her a floral arrangement like A Fine Romance by Teleflora on any given day is sure to keep the passion alive.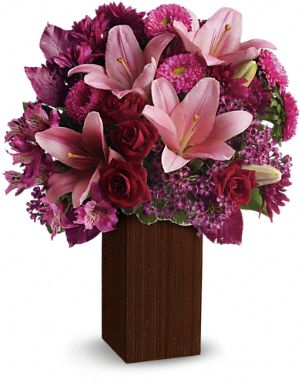 This article is brought to you by Teleflora on Google+