As Mother's Day approaches, we wanted to identify various types of moms – for example, Single Moms, Classic Mom, Modern Mom, Grandmothers etc. In this series on our blog we'll highlight real moms who exemplify each one of the categories. Today we interview a grandmother.
Grandmother Jorj Morgan is the author of cooking, entertaining and lifestyle books. Her kitchen and party planning tips can be found in national print, radio and television media as well as on her web site, Jorj.com. Jorj blogs on her website in order to reach readers quickly with new recipes, healthful ingredient options and unique party ideas. Her goal is to make visitors to her blog so hungry that they run into the kitchen and start cookin'.
Five Minutes with a Grandma – aka Nana Jorj

Q What surprised you most about being a grandma?
A You know, for years, I would hear new grandmas say things like, "You just can't believe the feeling!", or "It's love at first sight!", or "The beauty is that you can have all of the FUN and then give them back!". Well, when it happened to me, I must admit that all of these statements paled next to the FULL HEART that comes with that first peak at your new grandbaby. It is everything that you have heard, but so very much more.
I think part of it is that as moms we are charged with the all-encompassing job of raising your child to be the best he can be. As a grandma, your job is to love – just purely and selfishly love. It's such a surprising feeling to be able to just love and enjoy without any responsibility. I LOVE being a grandma!!!!!!
Q Tell me a lesson your grandchild taught you.
A Our babies are such little sponges. Everything is new and fascinating. Recently, I sat on a chair with my 2½-year-old granddaughter and watched from the family room window as the sun peaked through the clouds, melting the snow that had formed icicles on the pine trees in the back yard. We sat there for 45 minutes! When was the last time you even sat for 45 minutes – let alone spent those 45 minutes with the children you love? This is a lesson we all need to take to heart.
Q Who are your cooking idols or role models?
A I've written in all of my books, that my kitchen role models were my grandmothers. My Dad's mom was Irish, with tons of kids, who baked bread, slaughtered chickens for Sunday supper, and picked the freshest vegetables from her garden, to serve to us all.
My Mom's mom lived just down the road and had only one child. At her house we ate in the dining room, with linen napkins and the good china. Her presentation was perfect. Every morsel was delicate and delightful. My cooking skills are rooted somewhere in the middle. I cook for a crowd, while presenting every dish with an artful eye.
Q What's your No. 1 piece of advice for cooking with kids?
A My most important advice is to offer your child all varieties of food. Don't automatically think that he won't like something. My best pal, Cindy has twin 18 month-old grandsons that eat fish, fresh vegetables and fruit and turn their noses up at peanut butter and jelly sandwiches. Why? Because, their grandmother owns a Thai restaurant and prepares all of her specialties for the boys. I recently spent a week with my babies.
The youngest is about to be 1 and his parents are experimenting with new foods. We gave him everything that we ate. Whatever landed on the floor, we opted to hold back for a week or two and then try again. On the other hand, I know mothers of young children who will only feed their child one or two things, because they know that the child will eat, say mac and cheese or pasta stars, without a fight.
But in reality, these mothers are not only creating picky eaters, they are loosing the opportunity to have a warm and stress-free family dining experience. What's the big deal if the baby decides that mashed potatoes are finger paints? Eventually he'll learn to love them. Regardless of what you choose to offer your baby, bringing her into the kitchen while you cook, not only helps her to learn to interact with her food, but, also creates a time when you and she can just chat together – a most important part of parenting.
Q What would you do with an extra half-hour of spare time?
A I would sit with my grandbabies in my lap and count how many planes flew by in the sky, or how many blades of grass were planted in the front yard, or we would pick flowers to put in a vase for their mother, or I would take them for a stroll, or count their toes, or tickle their noses …. But then, I don't need a spare half-hour of time for that. Once you are a grandma, grandchild time comes first, all other things fall way down on the to-do list.
Q What's your No. 1 favorite meal for a casual but elegant family dinner?
A I LOVE all things comfort-food. My favorite Sunday family supper fare is either a roasted chicken with mashed potatoes, or beef brisket with roasted vegetables, or in the summer, steaks on the grill served with a grilled Caesar salad.
And, for dessert, chocolate pudding parfaits, olive oil cake with fresh braised berries, home baked apple pie. I could go on and on and on…….. You can see all of my favorite family foods and get recipes and family dining tips on my blog at jorj.com.
Q What's the biggest difference you see for mothers of small children now vs. when your kids were little?
A The hectic pace, created by technological advancements, has change the way children grow up and learn. However, it has also changed the way we parent. As in all things, there is some good and some not so good that comes along with change. When my babies were little, "Sesame Street," one of the first programs just for kids, was televised for only one hour a day.
Today, there are so many choices just regarding television programming, that sometimes, moms find that having their child watch multiple hours of television is a natural part of the day's schedule. This is multiplied by other media such as video games, computer time, social media, cell phone texting….. pretty soon you find your child constantly wired to something.
I don't agree. The MOST IMPORTANT part of parenting is the interaction that you have with your child. Trying to find the opportunity to have that interaction as often as you can should be a daily goal.
Send Grandma flowers this Mother's Day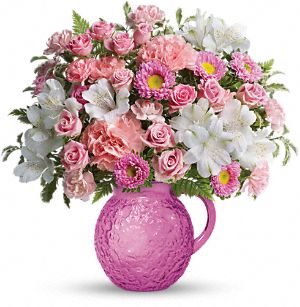 This article is brought to you by Teleflora on Google+