There is perhaps nothing better than celebrating the birth of a new baby in spring. This season is already representative of new life blooming, making it the perfect time to honor a friend expecting a bundle of joy. If you've been given the daunting task of putting a friend's baby shower together, you might be thinking, "How do I make this an event that's special and fresh?" The experts at Southern Living magazine are here to help – they recently discussed the best spring baby shower ideas to ensure your event goes off without a hitch. Here are a few of the best options:
Pick the perfect invitations
Even though you're not supposed to judge a book by its cover, it may be hard for invited guests not to get ideas of what a shower will be like from the invitations. That being said, it's important to pick out or even make invitations that fit well with the overall theme of the celebration.
According to the style gurus at the magazine, a great way to get an idea for spring invitations is to visit a design shop for past ideas. You might not have been thinking about using baby birds as a part of the theme, but an adorable owl invitation may make you want to include this motif, thus helping you finalize a theme as well. From here, you'll need to consider ways to personalize the invitations for your friend. For example, adding a sassy pink ribbon to the cards if your friend is ultra girly will help set the tone.
Chic decor
The other all-important step in planning an unforgettable baby shower is floral centerpieces and overall decor of the fete. The style experts suggest creating bouquets of fresh flowers like colored roses or cut lilies and placing them in antique baby cups and other silver goblets. You can look for such items at flea markets and yard sales. Feel free to spread them out throughout the room if you can only find a few.
Options like these, or even mason jars, offer a pretty style on their own, and only require a few flowers, which can help keep you on your budget.
Fun finger foods
Since the event is meant to honor a new baby, it might be a cute idea to stick with finger foods and other small dishes. Delicious meatball or eggplant parmesan sliders are sure to impress, while a mix of cupcakes, cake pops and mini pies are perfect options for dessert.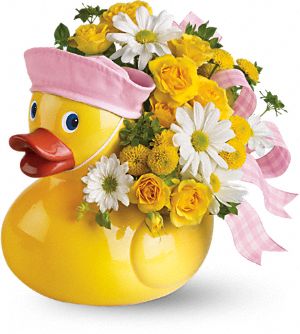 This article is brought to you by Teleflora on Google+