[et_pb_section admin_label="section"][et_pb_row admin_label="row"][et_pb_column type="4_4″][et_pb_text admin_label="Text" background_layout="light" text_orientation="left" text_font_size="14″ use_border_color="off" border_color="#ffffff" border_style="solid"]
When it comes to decorating for Christmas, most families get a tree and poinsettia plants to show their holiday spirit. Even though white and red poinsettias are a common symbol of Christmas, some people may not know how they got such an elite title.
Just For Kids Magazine reports one stand-out story surrounding poinsettia's history begins in Mexico. The story goes that long ago, people in a small town would head to church every Christmas Eve to decorate baby Jesus's manager with flowers. One small girl named Pepita was too poor to purchase flowers or another gift. As she walked with her cousin Pedro to church, he told her to pick up some weeds as even a humble gift like that is appreciated by Jesus. Pepita picked up the weeds and placed them in the manger when they got to the church. Suddenly the weeds turned into the beautiful red flowers, which Mexicans call "Flor de la Noche Buena," or the Flower of Christmas Eve.
Dr. Joel Roberts Poinsett, the first American ambassador to Mexico, traveled to Mexico between 1825 and 1829 and took a liking to the beautiful blossoms. He took a few plants home with him and raised them in his greenhouse in South Carolina. The plant was then named after him in the U.S. in 1836.
Families can relish the magical tale of the poinsettia while enjoying its bold colors by purchasing a red poinsettia like Teleflora's Red Poinsettia that comes in a natural woven basket.
This article is brought to you by Teleflora – a leader in the flower delivery service for over 75 years. Teleflora helps its customers buy flowers online and specializes in bringing the freshest available flowers for a variety of holidays and occasions – all hand-delivered in keepsake vases by the best local florists.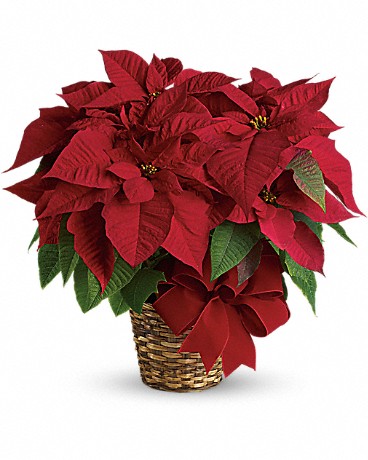 [/et_pb_text][/et_pb_column][/et_pb_row][/et_pb_section]