Earth Day is just a few weeks away, meaning it's time for families around the nation to start thinking of creative ways to live more responsibly for the environment. Even though the annual event is meant to encourage people to come up with ideas to reduce their carbon footprint, it's also time to have fun while embracing nature.
The Gal Time blog reports there plenty of fun ways to literally go green by using flowers in creative ways.
Decorate with dried blooms
Perhaps one of the best ways to incorporate already purchased or picked blossoms is to dry them out and use them to decorate any room in the home. The experts recommend seeking out flowers that tend to hold their color and liveliness even after they've been dried.
Wildflowers like statice, which come in purple, white and yellow hues, are a perfect option, while exotic flowers like coxcomb, which dazzle in shades like yellow, magenta, orange and deep red, are other suitable blooms to try.
Once the flowers are dried, there is no end to the possibilities of what you can craft using them. Do-it-yourself guru Martha Stewart reports the flowers can easily be used to make original stationery or to create fun and fresh glass coasters. The latter project is a great green gift option.
Get creative with produce
The experts at Gal Time report nothing should go to waste when you're planning a party. For example, if you're hosting a fabulous girl's night in event with a signature cocktail, try using whole or sliced up extra fruits and veggies like lemons, limes and beets as your table centerpiece. Not only will the aromas of the fragrant produce fill the air with a lovely smell, the bold colors of each item are sure to light up the room in no time.
The best part? You can easily discard the products after the party is over, whether you opt to grind the lemon and lime rinds in the garbage disposal to naturally rid the sink of unpleasant odors, or let them decompose in your compost pile – everything will be put to good use.
Plant a family garden
If you're looking to eat well this spring and summer, you can do so while going green by planting a garden in the backyard. An activity like this will help teach your children the importance of hard work. Gardening can also educate youngsters on where their food comes from, while saving you money at the grocery store.
Looking for a green gift? Shop our best plants!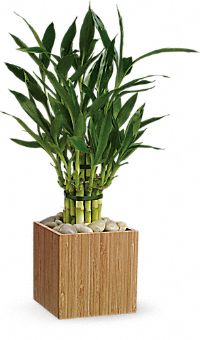 This article is brought to you by Teleflora on Google+