We all like to know we're doing a good job, especially when you're doing so many jobs and wearing so many hats. Can you guess who I'm talking about? Professional Secretaries, of course!
You know that person… the one who knows how to find that thing you were looking for, the one who knows who to call in all situations, the one who helps you get things done. Whether you call them "Administrative Assistants", "Administrative Professionals", "Professional Secretaries", chances are you DO call on them – often.
Sir Winston Churchill once said, "We make a living by what we get, we make a life by what we give." And I think secretaries and executive assistants, these hard-working office stalwarts, know that truth perhaps better than anyone else.
You have to give your all to juggle so many projects, arrange so many meetings, attend to so many crucial details and keep so many people happy.
If you run an office or team, think for a second about life without a secretary or assistant. Not a happy thought for most people. If that's the case for you, don't forget to say thanks and show your appreciation. The week of April 21st, 2013, let's celebrate them!
Celebrate the patience they have when you come to them with last minute requests to reschedule meetings, celebrate their uncanny ability to tell you where, when or how to get "that thing" you were looking for, or just celebrate them for being them!
When buying a gift for Administrative Professionals week:
Think of something that will brighten up their whole week, something they wouldn't usually do for themselves but do too often for others.
He or she is probably too busy to have lunch so why not reward a job well done with flowers? For men OR women, a gift of flowers or a plant is a great way to show your appreciation, to brighten their office space and to remind them throughout the week of your appreciation. And don't forget the enclosure card! And including your own hand-written message or a card signed by your whole team is a great way to make your gift of flowers even more meaningful.
Other thoughts on recognizing your adminstrative professionals' efforts (via the International Association of Administrative Professionals):
Recognize their efforts to the whole office! Set up a small presentation and lure the office in with a treat like brownies.
A hand-written thank you note shows you really care and that you were willing to take the time to write out the reasons you are thankful for them
Ask what they'd like to do! You can provide a few options, such as somewhat flexible hours for the week or the chance to register for a special professional event they'd like to attend.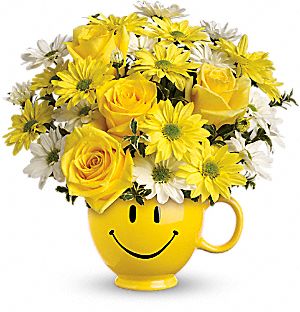 Just the right bouquet to say: Well done!
Do you plan to celebrate Administrative Professionals Week in your office? How? Let us know in the comments section!