Blooms of appreciation: Veteran's Day flowers
There are countless men and women who have selflessly served our nation, and who certainly deserve our appreciation. For that reason, Veteran's Day is an important holiday. Not only does this day offer an opportunity to express your gratitude for those who fought to defend our country, but it's also the perfect time to pay homage to those who sacrificed their lives for this cause.
Take a moment to pause and reflect on how our veterans have helped to keep our country safe, and then consider a special assortment of flowers to celebrate veterans and their efforts Nov. 11. What better way to honor bravery than with beautiful blossoms? For years, vibrant red poppies have been handed out as a symbol of remembrance for the veterans who fought before your time with the utmost courage.
Here are a few ideas for floral arrangements that can show your appreciation and represent your respect for our nation's veterans:
A patriotic bouquet
A combination of red roses, white asiatic lilies and alstroemeria, and blue statice flowers provide a combination that is blooming with American pride. Placed in a vivid blue glass vase, they're especially fetching. That's not all, though – a single small American flag offers a perfect final touch to tie the theme together.
A centerpiece for condolence
If you know or someone you know lost a loved one fighting in war, a centerpiece is a great way to commemorate their life or demonstrate your compassion. Consider a bouquet bursting with a combination of red and white flowers. White lilies and gladioli symbolize sympathy for the lives that were lost in war, while red roses and carnations provide dramatic impact. Sword fern and seeded eucalyptus offer a touch of pure elegance. This is an optimal addition to any home, and also makes a great gift.
Shop for a patriotic floral gift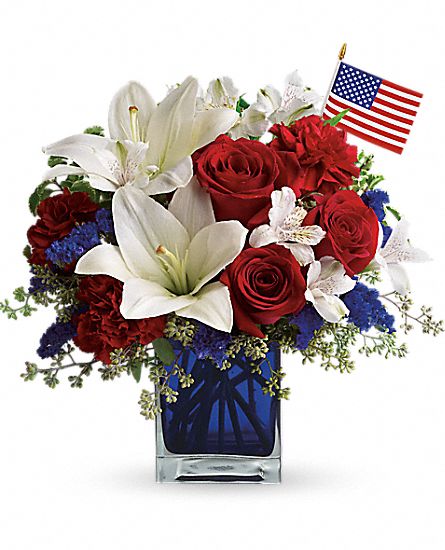 A wreath of recognition
Sometimes a subtle floral display isn't enough to demonstrate your thankfulness. An ornate red, white and blue wreath is a fitting symbol of acknowledgement, especially when it incorporates bold red roses and gladioli, tranquil white chrysanthemums and bright blue hydrangea and delphinium.
You could place the wreath on your porch or lawn as a strong statement of your recognition this holiday. This is also the perfect tribute to send to a person or family that may be grieving the loss of a veteran soldier.
This article is brought to you by Michelle Farrell and
published by Teleflora.