Be amazed at the Longwood Gardens Chrysanthemum Festival
If there's one flower that says autumn, it's the chrysanthemum. In a variety of hues that mimic the rich colors of the changing leaves, they capture the season like no other blossom. So it's a perfect time for the Chrysanthemum Festival, which is taking place at Longwood Gardens in Kennett Square, Pa., from Oct. 25 through Nov. 24, 2013. Whether you're an avid gardener, are eager to learn about these stunning blooms or simply want to observe their beauty up close, this exhibit is definitely worth a visit. Here's a glimpse at what you'll experience:
An enlightening education
You'll be amazed at how many chrysanthemums you'll see at Longwood. In fact, more than 20,000 of them are blooming on site, which have have been nurtured and groomed to take marvelous shapes like clouds, fans and even arches towering 13 feet tall. These awe-inspiring displays celebrate an ancient Asian plant-growing custom that turns flowers into artistic sculptures. Perhaps most majestic is the Thousand Bloom Mum, which includes more than 1,416 yellow blossoms – making it the largest of these forms in North America.
Thousand Bloom Mum

So what does it take to grow and sculpt these magnificent plants? You'll find out at the festival, where experts will share their secrets with you. If you have a green thumb yourself, this is an ideal opportunity to meet with the skilled gardeners and pick up some invaluable tips. Nov 9, senior grower Koa Kanamee will be revealing the work that went into the festival, and Nov. 23, staff members will showcase how these plants were transformed into intriguing shapes.
A piece of the gardens
Don't forget to look for a souvenir from Longwood to commemorate your trip here. The gift shop has a variety of books and tools that would be helpful for any gardener. Even if you don't grow your own flowers, you can purchase a hanging aerium nest or ornate vase to display a bouquet. Choose from an array of floral-infused bath products to bring the pleasant aroma of the gardens into your home. Or, you may want to take a look at the sterling silver rosette collection for a stylish piece of jewelry.
Even if you don't find the perfect treasure, you can still take home a piece of Longwood. The Thousand Bloom Mum provides the perfect photo op for you and your family or friends, so say "cheese" and share your photo on Instagram with the #ThousandBloom hashtag.
What you need to know:
The gardens are open this season from 9 A.M. to 6 P.M. daily. Entry to the festival is free with gardens admission.
If you get hungry while you're exploring the grounds, don't fret, as there are several dining options for you to re-fuel before you continue your horticultural journey. The casual-chic café serves up a changing selection of entrees, sandwiches, salads, soups, pastries and even a special children's menu – all made from fresh local ingredients.
For those that are craving a more decadent meal, head to 1906, the on-site gourmet restaurant. Set in the middle of the gardens, you'll be surrounded by magnificent flowers as you feast on port-poached pears, grilled diver scallops, spiced duck breast or mushroom and butternut squash wild rice risotto.
Looking for chrysanthemum plants and flowers?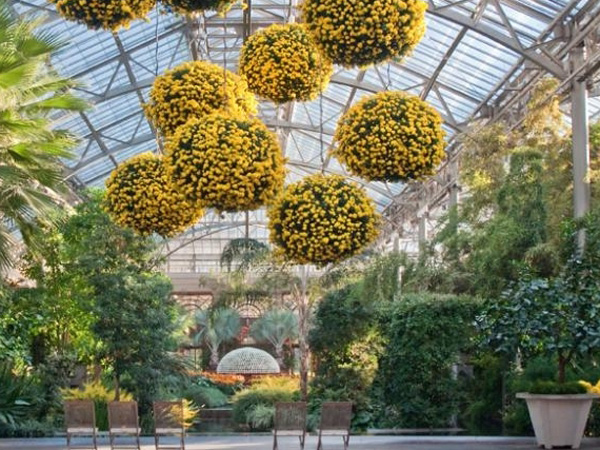 Photo credit: Longwood Chrysanthemum Festival